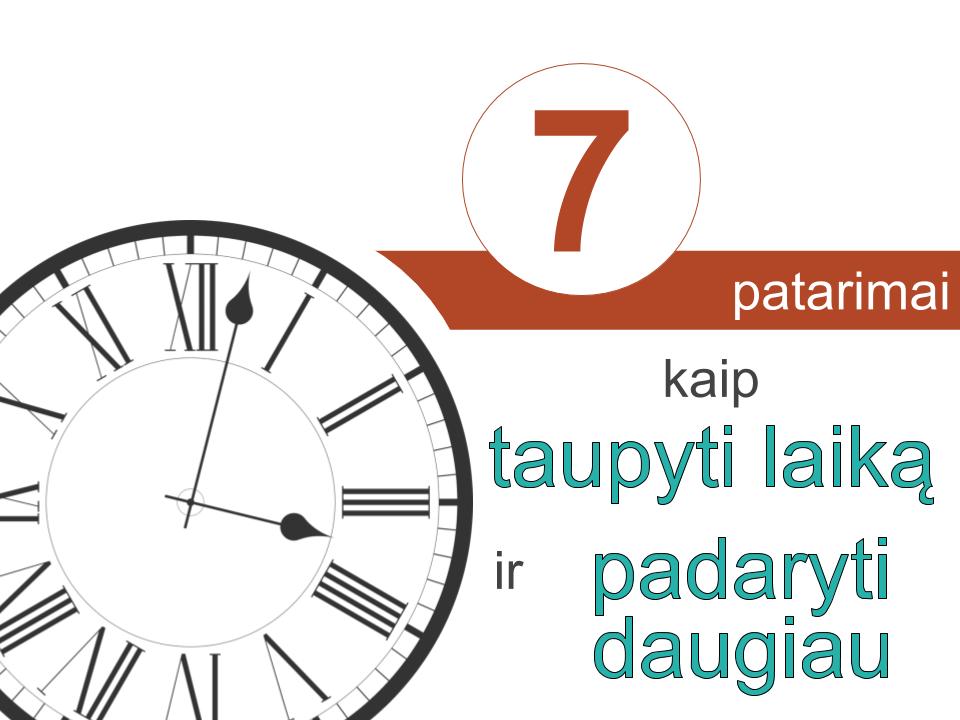 Ar kada svajojote, jog para turėtų daugiau nei 24 valandas? Aš dažnai apie tai svajoju. Kartais jautiesi lyg voverė rate: bėgi, bėgi, bėgi, pamiegi ir vėl bėgi, bėgi, bėgi. Deja, laiko niekas mums daugiau neduos. Vienintelis dalykas, kurį galime padaryti, tai išmokti jį taupyti. Kaip taupome pinigus ir neleidžiame jų niekams, taip ir laiką galime taupyti. Duosiu Jums 7 patarimus, kaip taupyti laiką ir padaryti daugiau.
1. Neatidėliokite smulkių darbų
Visada turime smulkių darbelių, kurie lyg ir greitai padaromi, lyg ir neskubūs, todėl velkasi iš paskos ir tarška vis primindami apie save. Aš dabar kaip tik turiu tokį darbą – užrašyti vaiką į mokyklą. Viską žinau, visą informaciją susirinkau. Tiesiog reikia atsisėsti, įsijungti kompiuterį ir užpildyti formą. Galvojate, kol to nedarote, tol ir laiko nešvaistote? Ne. Galvoje vis tiek sukasi mintis, kad reikia padaryti. O ta mintis, be abejo, užima vietą ir dėl to į galvą negali prasibrauti geresnės mintys. Negana to, su laiku viskas prisimiršta, ir kai jau tikrai susiruošiate tą darbą padaryti, tenka papildomai sugaišti laiko viskam prisiminti. Todėl geriausia iš karto atsisėsti ir padaryti.
(Gerai čia prigąsdinau – net pačiai baisu pasidarė. Reikės vakare būtinai tą prašymą užpildyti.)
2. Didelius darbus suskaidykite į mažus
Turite didelį darbą, tokį kaip, pavyzdžiui, parašyti bakalaurinį arba sutvarkyti rūsį? Einate ratais, sugalvojate, kodėl šiandien negalite to daryti, dar kartą apeinate ratais? Žinau, žinau. Tiesiog tai yra per daug baisu, o šviesa tunelio gale arba labai toli, arba apskritai nesimato.
Kai pasakau vaikams, kad jie turi susirinkti žaislus, jiems sušlubuoja sveikata, visi išgriūna, pradeda norėti valgyti ir miegoti. Nieko neprimena? Primena. Dar ir kaip primena!
O problemą išsprendžiu labai paprastai: "Tu imk dėžę ir surink mašinas, tu imk dėžę ir surink kaladėles, o mes su mažuoju rinksime bėgius." Vaikams jėgos sugrįžta ir su šypsenomis greitai susitvarko. Ko galime pasimokyti?
Taip, vienas didelis darbas yra tikrai didelis ir tikrai baisus. Suskaidžius jį į mažus darbelius, viskas pasidaro lengviau. O ir padaryti juk nebūtina vienu ypu. Po kiekvieno mažo darbelio galima kažką malonaus pasidovanoti.
3. Darykite pertraukas
Tyrimai rodo, kad nuolat dirbant tą patį darbą po truputį krenta produktyvumas. Ir ne dėl nuovargio, o dėl paprasčiausio atbukimo – smegenų nebejaudina Jūsų užsiėmimas. Užtenka padaryti trumpas pertraukėles: nueiti išsivirti arbatos, pereiti tris kartus kambarį ar pažiūrėti video su katinukais. Tada smegenys atsijungia, pamato kažką naujo ir vėl gali grįžti prie darbo.
Jau daug perskaitėte, pradedate atbukti, tai galite pailsėti:
Tik neužsimirškite! Užteks vieno video su katinukais. Kai youtube pasiūlys dar penkis, nespauskite – pasilikite kitai pertraukai.
4. Valia. Svarbiausia yra valia
Be valios nieko nebus. Tiesiog turite susikaupti ir pradėti daryti. Kai mane apima baimė, kad laukia didelis ir sunkus darbas, pasakau sau: "One step in a time" (angl. Vienu metu – vienas žingsnis). Ir dar lietuviškai priduriu: "Akys baisininkės, rankos darbininkės". Ir tiesiog pradedu daryti.
Valia yra išugdomas dalykas, todėl nepriimu jokių pasiteisinimų, kad "ai, aš bevaliu gimiau, man neužtenka kantrybės." Tik per anksti nepasiduokite. Gajus yra mitas, kad įpročiai susiformuoja per 30 dienų. Deja. P. Lally atliktas tyrimas rodo, kad įpročiai formuojasi maždaug 18–254 dienas. Dideli skirtumai, ką? Jums gali pavykti išsiugdyti valią ir per tris savaites, bet gali tekti ir 8 mėnesius vargti.
Tik nesumaišykite valios trūkumo su nuovargiu. Kartais tiesiog reikia pailsėti.
5. Darbų sąrašai yra gerai. Kalendorius – dar geriau!
Aš mėgstu susirašyti darbų sąrašus. Darbų sąrašai yra geriau nei nieko – bent jau nereikia galvoje nešiotis visų reikalų, planų ir idėjų. Tačiau dažnai jie ten ramiai sau ir guli. Jeigu vieną dieną nespėjai padaryti, ką suplanavai, jeigu ir antrą dieną nespėjai, trečią dieną jau nebereguoji į besikaupiančius darbus. Galiausiai ir baisu pasidaro ten nosį kišti.
Todėl geriau yra kalendorius. Kalendoriuje matote ne tik darbus, bet ir laiką, kurį turite tiems darbams atlikti. Jeigu susirašysite, kiek ilgai kokį darbą dirbsite ir kokiomis valandomis, bus lengva laikytis plano. Tik nepamirškite pasilikti laiko visokiems nenumatytiems darbeliams.
Jums atrodo, kad kalbu apie darbą biure? Ne tik. Aš kiekvienos savaitgalio dienos taip neplanuoju, bet jeigu, pavyzdžiui, reikia Kalėdoms pasiruošti, tada taip, turime darbų sąrašą, turime kalendoriuje išdėstytus darbus valandomis ir netgi pasižymime, kiek laiko kepėme sausainius ar tortą tepėme, kad kitais metais būtų lengviau planuoti. Išprotėję? Nemanau. Tiesiog taip išsigelbėjame nuo streso ir viską spėjame arba iš anksto žinome, kad visko nespėsime (dažnesnis antras variantas).
6. Neįklimpkite į socialinių tinklų liūną
"Pyp-pyp". O! Feisbukas sako, kad Jono gimtadienis, reikia pasveikinti. Surandi nuotrauką su gėlėm, parašai sveikinimą. Dirbi. "Pyp-pyp". Kas čia? A, Jonui patiko. Dirbi. "Pyp-pyp". Mhm, Jonas parašė ačiū.
Dirbi.
"Pyp-pyp". Šį kartą mesendžeris. Draugė atsiuntė juokingą nuotrauką su katinuku (o taip, katinukai – jie visur!). Sureaguoji į katinuką išsišiepusiu apsiverkusiu veiduku. Paklausi, kaip sekasi. Paplepat.
Dirbi.
"Pyp-pyp". Elektroninis paštas. "Šimtai knygų! Nuolaidos iki 45 proc.!" Reikia patikrinti, gal kas gero yra, nors nieko kaip ir nereikia. Be abejo, peržiūri visus šimtus knygų ir nieko nerandi.
Ir per dieną nesiliauja "pyp-pyp", "pyp-pyp", "pyp-pyp".
Išjunkite pagaliau tuos "pyp-pyp"! Tai yra baisūs laiko vagys. Paskirkite sau valandą, kada norite ir galite peržiūrėti socialinius tinklus, pasitikrinti paštą, o likusį laiką skirkite savo reikalams. Mano patarimas apskritai 2–3 valandas per dieną, jeigu tik įmanoma, skirti rimtam darbui. Tomis valandomis aš išjungiu telefono pranešimus (palieku tik skambučio garsą, jeigu auklėtojos norėtų pranešti, kad vaikai susirgo, bet jeigu tai ne auklėtojos, telefono ragelio dažniausiai nekeliu) ir dirbu. Jokio pašto tikrinimo, jokių žiūrinėjimų, kas ką feisbuke parašė. Vien tik koncentruotas darbas.
7. Laikykitės tvarkos
Kiek laiko ryte praleidžiate ieškodami raktų? Kiek laiko vertėte stalčius ieškodami asmens tapatybės kortelės kai skubiai reikėjo nulėkti į banką? Kiek laiko kuitėte sandėliuką ieškodami to "lyg kažkur buvo"? Visi daiktai turi turėti savo vietas. Visi failai Jūsų kompiuteryje turi turėti savo vietas. Viskas turi turėti savo vietas. Tada nueisite ir pasiimsite. Ir nereikės ieškoti.
Mano pagrindinė namų tvarkos taisyklė – nieko niekur nekaišioti vardan menamos tvarkos. Geriau daiktas mėtysis ant stalo, kol galiausiai ras savo vietą, nei bus įgrūstas kažkur tarp kitų daiktų į "juodąją skylę" iš kurios niekas niekada negrįžta.
Tas pats taikoma ir darbiniams kompiuterio failams, ir interneto nuorodoms, ir visiems kitiems lyg ir reikalingiems dalykams.
Įsiveskite tvarką ir jos laikykitės.
Bet kartu nepamirškite, kad reikia atsipalaiduoti, pailsėti, padaryti kažką malonaus, pasimėgauti nieko neveikimu. Kad ir kaip paradoksaliai skamba, tai taip pat taupo laiką ir leidžia padaryti daugiau.
Kaip Jums sekasi taupyti laiką? Ar pavyksta viską suspėti? Kaip planuojate darbus? Rašykite komentaruose.